Go Turf Delivers!
We're happy to help deliver your purchase within the Denver metro area. Place your order online and our team will reach out to schedule a delivery to your home or job site in as little as two days. We'll deliver your entire order including turf, sand, infills and glue for one, flat-rate price.
Flat Rate Pricing for Delivery
Within 25 Miles
$250 within 25 miles of the shop located at 9612 Titan Park Cir #5 Littleton, CO 80125. This covers Castle Rock, Parker, and most of the south Denver metro area.
25 – 50 Miles
$500 for delivery 25-50 miles from the shop. This covers almost of all metro Denver and as far north as Boulder and parts of Longmont. It also covers parts of Colorado Springs on the southern side.
50+ Miles
Delivery beyond the 50 miles radius is possible, but pricing is determined on a case-by-case basis. Please contact us if you'd like to discuss.
Please see the map for a general idea. When entering your order online, your zip code will be used to determine which flat-rate pricing your delivery qualifies for and will be added to your order.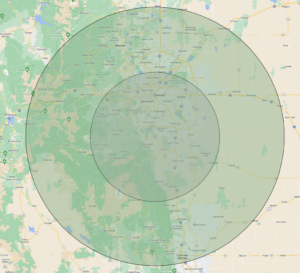 Free Pickup at Our Shop
We offer free pickup at our shop and can have your order ready for pickup as soon as next day.
Shipping Prices
Smaller items are available for shipping within the continental US. The shipping cost is provided directly from UPS and based on the size and weight of your order.